Proceso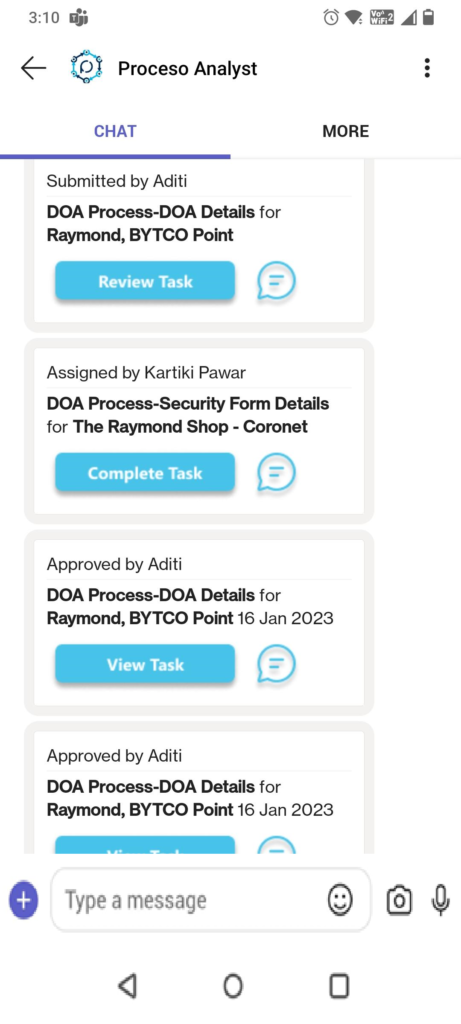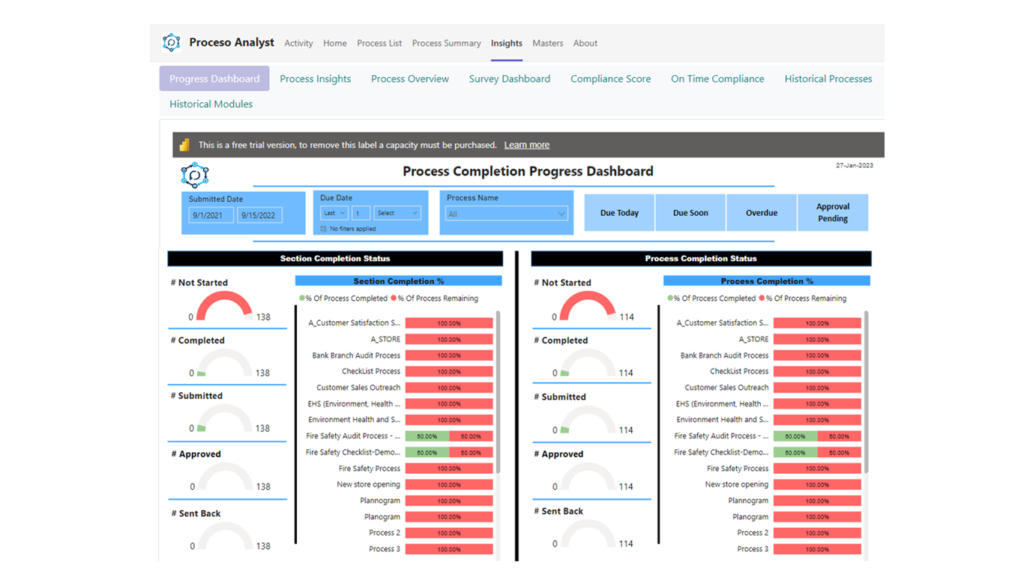 Our flagship product, Proceso is a SaaS platform targeted at organizations that need to automate and track a large number of processes that impact the Customer experience, operational efficiency and compliance. This is typically so where there is a large number of by blue collar workers/frontline that needs to perform their work on time and real time visibility and/or approvals are needed at the back office.
On Proceso, we offer ready to deploy templates for a number of industries. Since it is a NoCode platform, we permit customers to configure their own process templates.  You can configure some very complex workflows on Proceso without needing to build custom apps or write any code.
Proceso has the ability to integrate with third party Line of Business Applications. It is offered as a Teams App on a subscription model and sits on Azure.
Here are some videos that demonstrate some industry specific use cases
Retail – https://youtu.be/_WPhHirCPc0
Hospitality – https://youtu.be/q5I3QILccvM
Field Sales & Service – https://youtu.be/41be54aJp2g
Some of the processes that Proceso offers are listed below –
| | |
| --- | --- |
| Process Templates (Few examples listed) | Industry |
| Store Health, Visual Merchandising, Planograms, Inventory Counts Opening/Closing, Audits, Inspections, Returns, Exchanges, Sales Tracking, Floor Walks, Customer Feedback, Surveys, Customer Associate Assessments and more.. | Retail and Hospitality – Malls, Multi brand Retail, Convenience Stores, Filling Stations, Hotels |
| Returnable/Non-Returnable Gate Pass, Goods Acceptance, Inventory Counts, Stock-out Alerts, Statutory Audits like Fire Safety, EHS Audits | Retail, Manufacturing, Warehousing |
| Permit to Work in Hazardous Environments, Environment health & Safety Inspections, Asset Disposal, Safety Incident Reporting, Retailer/Distributor Onboarding, Sales Tracking | Manufacturing, Distribution, Dealer/Franchisee, Refineries, Elevator Shafts, Construction, Ports |
| Customer Outreach, Opening/Closing, Audits, Customer Feedback, Sales tracking | Banking, Insurance, Lending & Investment |
| Site Validation, Installation, Service, inspection, Fire Safety, Supervisor checklists, Customer feedback | Field Sales & Service for Telecom, Elevators, Utilities, Facility Management |
| Inspections, Patient Discharge Process, Opening/Closing checklists, Health and Safety checks | Healthcare |
| Flight Readiness, Aircraft Safety Checks, Aircraft Fuel Checklist, Ground Operations, Inspections, Audits, Crew Assessments, Aircraft Readiness, Certifications | Aviation, Logistics, Transportation |
| Project Management Task assignment and milestone tracking (Coming soon) | All industries |
| Meeting Governance and tracking of action points (Coming soon) | All industries |
| | |