IAMCP Annual Conference Sponsorships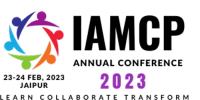 We are very excited to invite you to be a sponsor at the IAMCP Annual Conference 2023 on 23-24th Feb 2023 to be held in the lovely city of Jaipur at Hotel Hyatt. We expect more than 100 Partners from all over India to attend this event !
This event promises to be a very strategic and important part of every IAMCP member and Microsoft Partner as the top Microsoft India leadership will be present and speaking at the event. The event keynotes will be delivered by the Microsoft India leadership team.
This will be a 2 day conference with sessions from Microsoft and other sponsors. Technology sessions will include Cloud, AI, Analytics, Azure, Microsoft 365 & much more. The Business sessions will include GTM, MPN, Incentives and much more. So this event promises to be a "Inspire" for Indian partners where you will rub shoulders with the best Microsoft partners in the country as well as key Microsoft India executives.
The sponsorship slots available at the IAC 2023 are mentioned below. We are sure that you will find tremendous value in associating with IAC 2023 as a sponsor. You can expect tremendous brand visibility with the top IT CEOs and senior executives in the country.
Please feel free to reach out to us for more info board@iamcpindia.org
Sponsorship Slots

Price

Description

Only 1 platinum sponsor for event
40 min presentation slot
4 Conference Passes
Double size display booth
Branding at event - Pre & post event

Max 3 Gold sponsors
20 min presentation slots
3 Conference Passes
Normal size display booth
Branding at event - Pre & post event

Max 4 Silver Sponsors
10 min presentation slots
1 Conference Passes
Normal size display booth
Branding at event - Pre & post event

Normal size display booth